For over 65 years, Pandjiris has provided efficient, safe, consistent, and reliable
automated welding and positioning solutions, including: welding positioners, welding
manipulators, tank turning rolls, weld controllers, self-centering welding grippers, seam welders, slides & swivels, head & tailstocks, turntables, and custom systems. Pandjiris' primary focus is in meeting and exceeding our customers' expectations. With a wide range of standard equipment combined with engineering expertise, Pandjiris has the flexibility to design and manufacture automated systems for almost any application across a wide range of industries: pressure vessels, pipe fabrication, aerospace, aviation, shipbuilding, HVAC, transportation, truck and trailer body building, among others.
Pandjiris application engineers take the time to get to know our customer's unique
situation and work with them to develop a system that meets their needs. As a result Pandjiris is recognized in North America and many countries around the world as #1 in providing Fixed MIG (GMAW) and subarc (SAW) Automated Welding Solutions and for its expertise in developing solutions for TIG (GTAW) and plasma (PAW) applications. Pandjiris has held prices on stock items since 2006 despite labor and materials cost increases through improved productivity. Similar solutions can help you do the same.
PANDJIRIS FULL-LINE CATALOG
​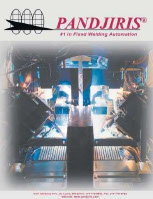 FOR SALES INQUIRIES, CLICK HERE